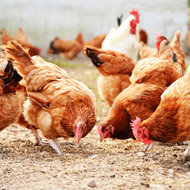 Undercover investigation reveals "double standard" in response to AMR.
Leading animal health firm Zoetis has been selling antibiotics to India to help farmers fatten-up livestock, according to evidence published by the Bureau of Investigative Journalism (BIJ).
The investigation found that antibiotics are being sold by veterinary drug stores over the counter to farmers without prescription. One of those antibiotics, Neftin-T, contains the antibiotic Tylosin, which Zoetis recommends feeding to chickens "to improve weight gain and FCR [feed conversion rate]".
An undercover investigator from the Bureau also spoke to a member of Zoetis' Indian sales team who said it typically sold these antibiotics direct to farmers.
The World Health Organisation (WHO) and the Food and Agriculture Organisation have called for a worldwide ban on the use of antibiotics to grow livestock. The practice was banned in the EU and the America two years ago in an attempt to prevent the spread of antibiotic resistance.
Ahead of the US ban, Zoetis ceased advertising antibiotics as growth promoters to American farmers and said it "supports the FDA's [US Food and Drug Administration] efforts to voluntarily phase-out growth promotion indications for medically important antibiotics".
But the Bureau's investigation revealed the company is continuing to sell antibiotics directly to Indian farmers, with its Indian website claiming that it will make animals grow bigger and faster.
Infectious disease professor Dr Abdul Ghafur, who is spearheading a plan to tackle antibiotic resistance in India, accused Zoetis of using "double standards". "If an American company follows one policy in America, they should follow the same policy in India," he said.
Dr Thomas Van Boeckel, a researcher at the Swiss Federal Institute of Technology (ETH Zurich) who has mapped antibiotic use in agriculture, added: "It is blatantly clear that Zoetis is using a double standard in the way it is willing to expose consumers in India to higher levels of risk than in the United States."
Tylosin was banned for use as a growth promoter in the EU in 1998 over fears it fuels resistance to erythromycin – a "critically important" antibiotic used to treat chest infections and other human diseases.
Responding to the investigation, Zoetis said that it complies with the law in each location where it operates.
"Each country enacts regulations for their market needs and standards, and we work with the national regulatory authorities in various countries, including India, to understand, respect and comply with local regulatory interpretation and oversight," it said.