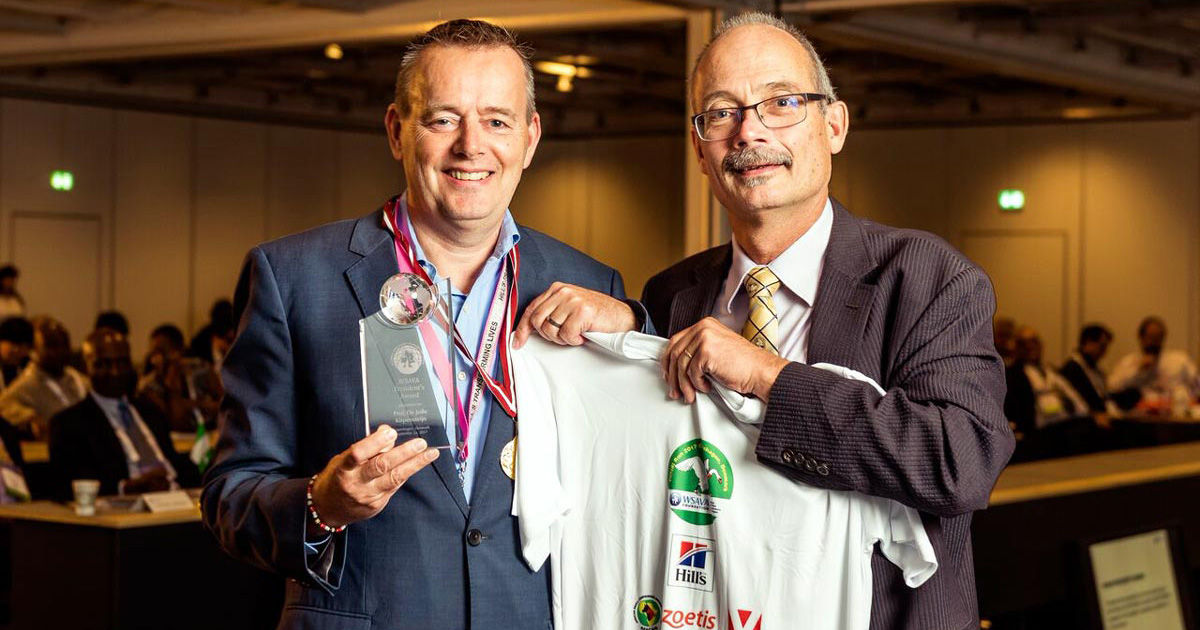 From left: Jolle Kirpensteijn and WSAVA president Walt Ingwersen.


Jolle Kirpensteijn has received the WSAVA's President's Award in recognition of his work to "transform" the organisation and enhance the effectiveness of its global operations.
Dutch vet Jolle Kirpensteijn has been awarded the WSAVA President's Award in recognition of his service to the association.
A past-president of the WSAVA, Dr Kirpensteijn received the award from current president Walt Ingwersen during the WSAVA's Annual Assembly Meeting on 24 September, prior to WSAVA World Congress 2017.
Enhanced effectiveness
During his presidency (2010 to 2012), Dr Kirpensteijn worked to enhance the effectiveness of the WSAVA's operations. He focused particularly on strengthening continuing education initiatives, improving communications and helping create a clear strategy.
He is working as chief professional relations officer in the global professional and veterinary affairs team for Hill's Pet Nutrition.
Transformation
In presenting the award, Dr Ingwersen described how Dr Kirpensteijn had "transformed the WSAVA" and moved the organisation along the path towards professionalisation and financial self-sufficiency.
Dr Kirpensteijn said: "The WSAVA is a fantastic association, and it has been my honour to help it support and champion companion animal veterinarians around the world.
"We achieved a great deal during my presidency, but I'm most proud of the relationship we built with the World Organisation for Animal Health [OIE] – this intergovernmental organisation is responsible for improving animal health worldwide."
Important role
He added: "Michael Day and I convinced the OIE that companion animal veterinary care plays an important role in tackling global infectious diseases, such as rabies. In 2011, we signed a memorandum of understanding to promote increased collaboration and were granted full observer status at the OIE general assembly. We have had a fruitful and important partnership ever since."
Prof Day is the WSAVA chairman for the vaccination guidelines group and one health committee. Dr Kirpensteijn was presented with a certificate and an engraved award.