Public advised to take precautions to prevent infection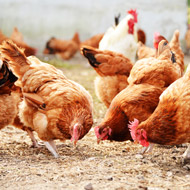 Chinese health officials have reported the world's first human case of avian influenza A (H7N4).
The Hong Kong government's Centre for Health Protection (CHP) said it was informed of the case on Wednesday (14 February), by China's National Health and Family Planning Commission.
According to a statement, the 68-year-old female patient from Liyang in Changzhou, Jiangsu Province, developed symptoms on 25 December after being in contact with live poultry. She was admitted to hospital for treatment and discharged on 22 January.
The centre cited a report from the Chinese Centre for Disease Control and Prevention, which confirmed the genes of the virus were of avian origin.
A CHP spokesperson said: "Based on the seasonal pattern, the activity of avian influenza viruses is expected to be higher in winter. Travellers to the Mainland or other affected areas must avoid visiting wet markets, live poultry markets or farms. They should be alert to the presence of backyard poultry when visiting relatives and friends.
"They should also avoid purchasing live or freshly slaughtered poultry, and avoid touching poultry/birds or their droppings. They should strictly observe personal and hand hygiene when visiting any place with live poultry."
Travellers returning from the affected areas are advised to consult a GP promptly if symptoms develop and inform them of travel history – particularly if live birds were seen . The public are also advised to maintain strict personal, hand, food and environmental hygiene.
Local surveillance, prevention and control measures are in place and the CHP says it will remain vigilant, working with health authorities and the World Health Organisation (WHO) to monitor the situation.
Health surveillance measures are carried out by the CHP's port health office at all boundary control points. Thermal imaging systems are in place for body temperature checks on inbound travellers. Suspected cases will be referred immediately to public hospitals.
Steps are also being taken to display posters and broadcast health messages for travellers in departure and arrival halls.