Study explores relationships between farriers and horse owners.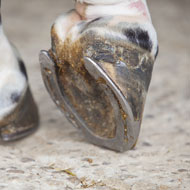 Farriers who work closely with horse owners and take a holistic approach could help to prevent laminitis, new research suggests.
Researchers from the University of Surrey carried out in-depth interviews with farriers and horse owners, to learn more about their relationships with one another and their approach to equine care.
Findings published in the Equine Veterinary Journal suggest farriers who take a holistic approach place emphasis on building long-term, trusting relationships with owners. This approach and a commitment to the overall health of the horse could potentially reduce instances of the disease.
Researchers also found that farriers who are more technically-focused can work well with owners who already have knowledge and understanding of laminitis. However, these farriers are not providing the more welfare-focused support, particularly to new horse owners.
Figures suggest 75 per cent of horses in Britain are cared for by their owner, many of whom are new to caring for horses and may not have the knowledge or skill needed to care for those at risk of laminitis. In these cases, Surrey scientists say the farrier is invaluable in helping to identify potential risk factors, such as obesity.
Lead author Jenny Lynden said: "The relationship between a horse owner and their farrier is not to be underestimated. When more holistic support is required by an owner, farriers who want to and have trained to engage in this way, have a huge role to play in providing this support.
"The key is to ensure that farriers and owners can be 'matched' appropriately, so that owners who require more holistic-focused interventions can access farriers who can and want to offer this type of support."
New surveys are now underway to find out more about how farriers and horse owners work together, to inform support for farriers' CPD.