Short-term access restored for non-food producing horses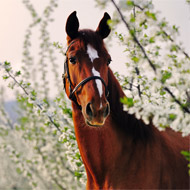 The Veterinary Medicines Directorate (VMD) has temporarily relaxed the restrictions that were recently imposed on the equine painkiller flunixin.
VMD has allowed the release of stock from manufacturers, which will restore short-term access to this medicine, for use in non-food producing horses.
Medicines for food-producing animals that contain the excipient diethanolamine (DEA) were recently suspended by the VMD. The decision was made following a scientific opinion from the European Medicines Agency, which highlighted concerns that there may be a risk to humans.
Among other products, flunixin 50mg/ml solution for injection was suspended, prompting concern among vets about the potential future lack of this drug for intravenous use in non-food producing horses. VMD said it is investigating potential ways to maintain the availability of injectable flunixin for use in these horses.
Commenting on the relaxation of the restrictions, BEVA president Jon Pycock said: "It remains a concern to BEVA that this mechanism was not put in place before the suspension of flunixin was imposed.
"Contrary to assertions by the VMD, wholesalers were unable to meet the demands of the veterinary profession and clinical use of this medicine was disrupted within 24 hours of the VMD's initial announcement.
"We are surprised by the Regulator's lack of awareness of availability in the supply chain and question why there was no consultation with the veterinary sector before the suspension was enacted. The VMD has been aware of this issue since March 2018 and it appears that no contingency was put in place to consider the animal welfare impact of this decision until it was too late."
Tim Mair, BEVA junior vice president and specialist in equine surgery added: "Flunixin is a unique medicine in managing pain and sepsis in horses with colic. The VMD appeared to believe that this medicine could be substituted for other veterinary medicines and this is simply not the case.
"The release of stock from manufacturers is a short-term solution and, looking forward, we would like assurances that the VMD will fast track applications for the modification of product licenses to ensure that equine vets have continued access to these products."
Stocks of flunixin held by manufacturers will be distributed with a caution letter, which explains the restricted use of the product.
BEVA is reminding all equine vets to check the horse's food chain status when using the product – either by examining the paper passport or the recently launched chip checker on the Central Equine Database website.