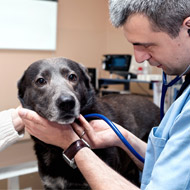 Vets across Europe have been urged to be vigilant of Angiostrongylus vasorum in dogs following a sharp rise in the prevalence of the disease.
Speaking the sixth European Dirofilaria and Angiostrongylosis Days meeting, Professor Eric Morgan of Queen's University in Belfast said:
"Angiostrongylus vasorum is most definitely spreading across Europe, but many factors will determine what happens next. Definitive and intermediate host distribution, as well as climate, are contributing factors, which are unfortunately all trending in favour of the parasite.
"It is likely that we will continue to see an increase in distribution and prevalence; distribution in established areas is also anticipated to become less patchy."
Professor Morgan's figures show that positive cases of the disease in dogs and foxes have risen from 12 in the years 2002-2006 to 426 from 2012-2016. This is further supported by data from Switzerland which found there had been a significant increase in the prevalence of A. vasorum in fox populations since 2003.
In North-Eastern Switzerland, for example, zero-prevalence increased from under two per cent in the eighties to over 60 per cent in the current decade.
More than 100 experts in the field of parasitology and clinicians attended the meeting, which was held in Belgrade, Serbia, in July. The event gave practitioners hands-on experience with the latest diagnostic tests and included a discussion on performing and interpreting radiographs.
The need for better diagnostic tools and treatment for bleeding disorders was also a main point of interest, sparking lively discussions among participants. Professor Manuela Schnyder of the University of Zurich presented a study that explored the pathomechanisms, diagnosis and treatment of angiostrongylosis associated bleeding in dogs.
The meeting concluded that, despite a number of breakthroughs, emphasis must remain on routine preventative treatment to protect dogs at risk. It provided a list of outcomes that vets can apply to prevent A. vasorum spread and reduce the number of fatal cases. These included:
•    be vigilant clinically and routinely use available diagnostic tests
•    support efforts to enhance practice-based surveillance
•    educate pet owners about the parasite and their role in reducing risk
•    consider routine preventive treatment, for dogs more susceptible to eating lungworm hosts in endemic regions.