French bulldog saved from euthanasia after traditional methods failed
In a UK first, veterinary cardiologists have performed a groundbreaking heart procedure on a French bulldog with severe pulmonic stenosis.
Four-month-old puppy Gracie was admitted to Davies Veterinary Specialists and diagnosed with type B stenosis, marked right ventricular hypertrophy and an atrial septal defect.
After a standard balloon valvuloplasty failed, cardiology specialist Pedro Oliveira and his team opted to implant a metal stent across the pulmonic valve. It is thought to be the first case in the UK – and one of only a few in the world – to be treated using this technique.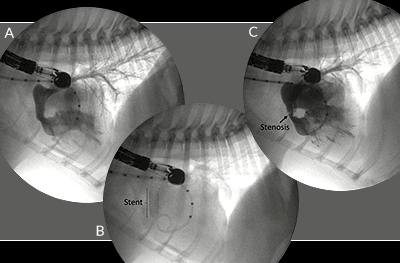 Pulmonary stenosis is one of the most common congenital heart defects in dogs. In severe cases, dogs are at risk of sudden death, heart failure and decreased survival time compared to unaffected dogs. French bulldogs are predisposed to the condition and tend to respond less well to the treatment of choice, balloon valvuloplasty, than other breeds.
Gracie initially showed improvement after the balloon valvuloplasty procedure, but soon began to suffer episodes of weakness and collapse. Oliveira says re-stenosis has been reported in up to 16 per cent of cases, and for Gracie, this is thought to have occurred due to formation of scar tissue in the valve leaflets.
"The pressures inside the right side of the heart were now higher than left allowing blood to flow through the atrial septal defect from the right to the left atrium directly without receiving oxygen from the lungs," he explained. "Whenever Gracie got excited or tried to exercise she would go 'blue' from lack of oxygen and collapse."
At this point, Gracie's only options were euthanasia, open-heart surgery (patch graft) or the novel procedure. Oliveira performed the operation with fellow cardiologist Jose Matos, while Antonia Mavropoulou guided them using transoesophageal echocardiography.
After carefully assessing the dog's heart structure under general anaesthetic, they chose an 8mm x 4cm stainless steel catheter, tightly mounted on a balloon. This was positioned across the pulmonic valve and the balloon expanded, forcing the stent to 'open up' to its full size (Figure B).
Vets said there was an immediate and substantial improvement in blood flow through the stent (Figure C). The patient recovered well from surgery and was discharged four days later. On re-examination three months later, there was improved flow across the stent and a reversal of the right to left shunting across the atrial septal defect. The patient stopped suffering episodes of collapse or cyanosis and is able to exercise and lead a more normal life.
Commenting on the technique, Oliveira added: "It is more technically challenging and costly than a standard ballooning although it may provide an effective, safe, and cheaper alternative to patch graft surgery. In this particular case we feel it made an important difference in terms of quality of life and prognosis for Gracie."