Impulse buying causing serious welfare crisis, survey finds.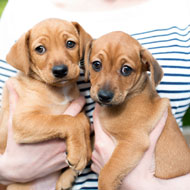 Nearly a third of puppies bought online suffer illness or death in their first year, new research by the Kennel Club suggests.
According to a survey, 18 per cent of those who bought a puppy directly over the internet said their pet developed an ongoing illness, or sickness leading to eventual death, within 12 months. A further 13 per cent of puppies became ill but later recovered.
A quarter of puppies bought in this way went on to die before their fifth birthday.
The most common conditions reported in pups were gastrointestinal issues (14 per cent), skin problems (19 per cent), pneumonia (eight per cent), kennel cough (10 per cent) and parvovirus (four per cent).
Kennel Club secretary Caroline Kisko said the ability to impulse buy online is having an "alarming impact" on the way people buy puppies.
One in three people surveyed did less than two hours' research before buying their pet, which is leading to a "serious welfare crisis", she added. Roughly the same percentage of people admitted that they would not know how to spot a rogue puppy breeder.
Despite the government's plans to ban third party puppy sales, backstreet breeders can still sell directly to puppy buyers whilst masking terrible welfare issues, the Kennel Club warned.
Kisko added: "…the yawning gap in puppy buyer awareness about how to identify a good breeder leaves people – and dogs – very vulnerable."
The Kennel Club has teamed up with celebrities to create a film that aims to help owners with spotting rogue breeders.