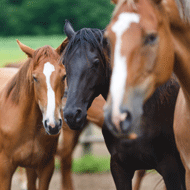 Experts debate how to better manage the disease
Equine welfare representatives have called for a collaborative approach to strangles, saying there is no reason why it could not be eradicated if more people were inspired to take action.
They made the call at an industry symposium which united leaders from across the equine community to discuss the better prevention and management of the disease.
Sponsored by Redwings Horse Sanctuary and The British Horse Society (BHS), with collaboration from SRUC, The University of Edinburgh, the Animal Health Trust (AHT) and World Horse Welfare, the event was attended by vets, farriers, yard managers, equestrian governing bodies and welfare charities.
Attendees shared their latest research, which included updates from the AHT on promising vaccine developments, the strangles surveillance scheme, and the value of the Premium Assured Strangles Scheme for certification of yards.
Scotland's chief veterinary officer Shiela Voas chaired a debate on what more the sector could do to influence good biosecurity. Topics included the larger role of vets in encouraging better practices amongst clients and whether strangles should be made 'reportable'.
Andie Vilela, Redwings' education and campaigns manager, said: "There has never been more information, advice and help available for horse owners to effectively prevent and tackle strangles, and yet it remains the UK's most prevalent infectious disease with over 600 outbreaks every year.
"There is no reason why stamping out strangles in this country cannot become a reality with a commitment to good practices and actions, such as identifying and treating strangles carriers. This symposium provided the chance for representatives from the across the equine sector not only to evaluate their own practices but figure out how we can work together to inspire and support others to do more."
The symposium, 'Together we can stamp out Strangles,' took place at the Royal (Dick) School of Veterinary Studies.