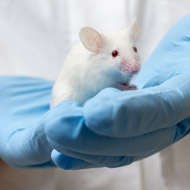 Results highlight public's desire to curb the use of animals
A survey commissioned by the Government's Office for Life Sciences has revealed rising public concern about animal research and testing.
The Ipsos Mori survey reveals that an increasing number of people (31% in 2014 to 38% in 2018) believe that animals should not be used in scientific research because of the importance they place on animal welfare.
Two-thirds of respondents said they 'can accept' some animals being used in experiments on the provisos that 'it should be for 'medical research'; that there should be 'no alternative' and there should be no unnecessary animal suffering.
The RSPCA said the results 'demonstrate the need for strong regulation and increased efforts to develop humane alternatives to the use of animals'.
Dr Penny Hawkins, head of RSPCA Research Animals Department, commented: "These results yet again show the public's ongoing and serious concerns for lab animals – concerns which are shared by the RSPCA.
"The public is entitled to expect strong controls on animal experiments that will be robustly enforced. But in recent years the number of official inspections of labs has plummeted from 1,984 in 2010 to just 966 in 2017. The inspectors are also spending less time visiting laboratories, down from 5,690 hours in 2010 to 3,084 in 2017.
"This is deeply worrying and reflects either a lack of resource or a more 'hands-off' approach to regulation. Either way, these developments are disturbing to all those who have legitimate concerns about the suffering of lab animals, and call into question the statements we keep hearing about the UK's commitment to ensuring the 'highest welfare standards".
The survey also highlighted the public's desire for more to be done to curb the use of animals in research. Three-quarters (75%) of respondents said there should be more research into humane alternatives for animal experiments.
Moreover, almost half of people (47%) said that "scientists could do more to reduce the suffering of animals used".
Penny continued: "Recent years have seen increasing acknowledgement that many experiments using animals are poorly designed and of questionable value, but the use of lab animals remains high. Over a billion animals have been used worldwide over the last decade, around 40 million of these in the UK, with many experiencing 'severe' suffering.
"The public is right to ask exactly what has been achieved as a result, and how much of this research is really 'vital' or 'necessary'?"