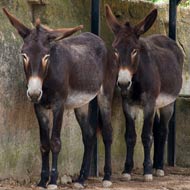 Urgent outreach work is needed to tackle the deliberate mutilation of working donkeys in India, scientists have said.
A new study published in Vet Record suggests mutilation by owners – including nose splitting, ear splitting and branding – were the most common skin wound, accounting for more than 62 per cent of all wounds.
Researchers assessed the health and welfare of 582 working donkeys from several communities that were part of a welfare initiative run by the Worldwide Veterinary Service in Tamil Nadu, India. They used data collected using a smartphone app between October 2016 and July 2017.
Just under 300 wounds were found in 227 donkeys, representing 39 per cent of the population.
Poorly fitting harnesses and hobbles were another common cause of injury.
Researchers said the data can be used to create future educational interventions to reduce mutilation practices. Outreach initiatives are urgently needed to improve donkey welfare in these regions.