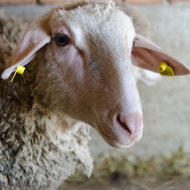 Researchers explore link between vitamin D and health outcomes in Scottish hill sheep 

Sheep with higher levels of vitamin D give birth to heavier lambs the following year, a new study has found.  

The research, published in Scientific Reports, assessed the link between vitamin D levels and health outcomes in Scottish hill sheep.
The findings are comparable to studies in humans, which have linked vitamin D deficiency to low birth weight.

The study also revealed that vitamin D3 concentrations were higher in sheep with lighter faces than those with darker wool. Levels of vitamin D2, however, did not vary between the breeds.

Researchers say their discovery is consistent with their earlier studies in Soay Sheep and demonstrates how coat colour can influence vitamin D levels in animals.

The work forms part of ongoing research into the role of vitamin D and animal health at the Royal (Dick) School of Veterinary Studies and The Roslin Institute.