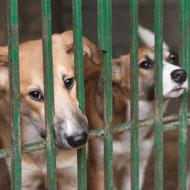 Dog farm owner prosecuted in landmark case 
A South Korean court has ruled that the killing of dogs for meat is illegal, in what campaigners are calling a landmark case that could pave the way for a ban on dog meat consumption in the country.
According to media reports, animal rights group Care brought a case against a dog meat farm operator, accusing him of killing dogs without proper reason and violating building and hygiene regulations.
On Thursday (21 June), a city court in Bucheon ruled that meat consumption is not a legal reason to kill dogs. The operator was convicted and fined 3 million won (£2,000).
Care says it plans to track down other dog meat farms and slaughterhouses across South Korea and file similar complaints to the judicial authorities.
Dog meat has long been part of South Korean cuisine and it is estimated that around one million dogs are eaten every year in the country. However, the practice is in decline, particularly among the younger generation who are largely opposed to it.
A lawmaker from the ruling Democratic Party introduced a bill this week that would effectively ban the killing of dogs for meat.