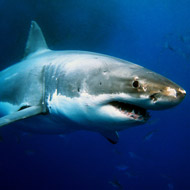 Study suggests great whites have evolved protective abilities 

Scientists have decoded the entire genome of the great white shark, which could offer clues to fighting cancer and age-related diseases in humans, as well as improving wound healing treatments.

Comparing the great white's genome to a human genome, the research team found numerous genetic changes that could explain the evolutionary success of this large-bodied, long-lived species.

The findings have been published in the journal Proceedings of the National Academy of Sciences, USA.

Adaptive changes were found in numerous genes that play important roles in genome stability, the genetic defence mechanisms that counteract accumulation of damage to DNA. Scientists identified these changes in genes that are closely linked with DNA repair, damage response and damage tolerance, among others.

The opposite phenomenon, genome instability, which occurs as a result of accumulated DNA damage, is known to predispose humans to numerous cancers and age-related diseases. 

Theoretically, the risk of developing cancer should increase with both the number of cells (large bodies) and the organism's lifespan; there is statistical support for a positive relationship between body size and cancer risk. However, this does not hold up across all species.
Scientists said that contrary to expectations, very large-bodied animals do not get cancer more often than humans, suggesting they have developed superior protective abilities.

Sharks are also known for their rapid wound healing and scientists found evolutionary adaptations in genes linked to wound healing pathways, including a key blood clotting gene.

Co-leader of the study, Mahmood Shivji, who is director of the Nova Southeastern University's Save Our Seas Foundation Shark Research Centre, said: "Genome instability is a very important issue in many serious human diseases; now we find that nature has developed clever strategies to maintain the stability of genomes in these large-bodied, long-lived sharks."

"There's still tons to be learned from these evolutionary marvels, including information that will potentially be useful to fight cancer and age-related diseases, and improve wound healing treatments in humans, as we uncover how these animals do it."

Decoding the great white's genome will also help with conservation of this and related shark species, many of which are suffering declining populations due to overfishing.