Findings could inform conservation efforts in high-risk areas.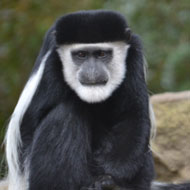 Scientists have created a map of primate electrocutions in Diani, Kenya, to show where animals are most at risk from power lines.
The findings, published in the International Journal of Primatology, could help to inform conservation efforts in parts of the world where electrocutions are particularly common.
Electric shocks threaten a wide range of primate species around the world and this issue could become more problematic as humans increasingly dominate the landscape.
Researchers from the University of Bristol investigated electrocutions that occurred along power lines, which threaten five out of six primate species in Diani. Working with Colobus Conservation, they mapped 329 incidents.
Dr Katy Turner, a reader in infectious disease epidemiology, said: "Electrocution is an issue for many threatened primate species, yet the development of effective evidence-based mitigation strategies is limited.
"This study provides a framework for systematic spatial prioritisation of power lines that can be used to reduce primate electrocutions in Diani and other areas of the world where primates are at risk from electrocution."
Diani is a popular tourist town dominated by beach resorts. Over time it has encroached more and more on the habitats of many primate species, putting them at risk from roads and power lines.
Black and white colobus monkeys, Skyes' monkeys, vervet monkeys and baboons are common species in the area. Whilst they have adapted to the human-dominated landscape, road traffic accidents and electrocutions are among the common causes of death.