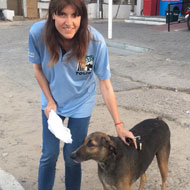 Charity founder receives RCVS International Award

Veterinary nurse Rachel Wright, who founded the Tree of Life for Animals (TOLFA) in India, has received an International Award from the RCVS, recognising her work to improve animal welfare overseas.
TOLFA is a veterinary hospital and animal shelter in Rajasthan, India. Since its inception 12 years ago, it has treated more than 155,000 sick or injured animals, sterilised more than 21,000 animals and rabies-vaccinated over 26,000 street dogs.
In addition, the charity's education projects have taught more than 5,600 children about dog bites and rabies prevention, as well as the importance of the 'five freedoms' for animals.
The RCVS board "unanimously agreed" that Rachel should be a recipient of this year's International Award.
President Stephen May said: "Our International Awards really demonstrate that our work as veterinary health professionals does not stop at the borders of the UK and that sharing knowledge, skills, time and effort with our international colleagues improves the health and welfare of animals across the world.
"The hospital that Rachel Wright founded works to eradicate rabies and educate the community on animal health and welfare while treating anything between 300 and 400 animals at any one time."
Rachel said her award came as "a complete surprise".
"Living and working in the middle of the Rajasthan desert feels a million miles away from my days working as a veterinary nurse with pet animals in a UK veterinary hospital," she said.
"To be honoured with an award from the body that governs the profession that I hold so dear is truly a humbling experience. I am thrilled and grateful to both the colleagues that nominated me and to the RCVS for appreciating my work in the field of international animal welfare."
She will collect her award at the college's AGM in London on Friday 13 July.