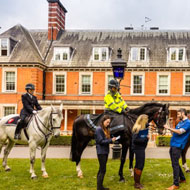 London's Hyde Park Police
Horses lining up for National
Equine Health Survey.
Latest NEHS offers insights into equine health

Over a quarter of horses with back problems also show signs of lameness, according to the results of the latest National Equine Health Survey (NEHS). Out of the 5.5 per cent of horses who had back problems, 26 per cent also had signs of lameness. Although the results do not confirm a link between the two, in with recent research carried out at the Animal Health Trust (AHT).
The Blue Cross, who carries out the NEHS in conjunction with the BEVA, calls this "one of the most significant findings" in this year's survey. Dr Sue Dyson, head of clinical orthopaedics at AHT's Centre for Equine Studies, explained: "It is a common observation that horses with lameness stiffen the back as a protective mechanism and develop muscle pain which may be misinterpreted as a primary back problem.
"We have shown objectively that abolition of lameness by diagnostic analgesia results in an immediate increase in range of motion of the back. The current data supports this close relationship between lameness and back pain."
The survey suggests skin diseases are the most common health issue in horses, accounting for 31.1 per cent of all reported diseases. Sweet itch and mud fever the most frequently reported individual syndromes.
Lameness (including laminitis) accounted for 23.4 per cent of reported disease syndromes, making it the second most common issue. If laminitis were excluded from the analysis, lameness due to problems in the limb proximal to the foot was more common than problems in the foot.
The other three top health problems reported were:
Metabolic diseases (8.1 per cent). Equine Cushing's disease accounted for 73.4 per cent of this figure.
Eye problems (7.6 per cent), with ocular discharge accounting for 54.2 per cent of all recorded ocular problems.
Gastrointestinal problems (7.5 per cent), of which 39 per cent were gastric ulcers.
NEHS is a snapshot survey conducted every year during May. This year, 5,235 people took part and returned records for 15,433 horses. Most horses were kept for leisure and hacking in livery or private yards. The majority were aged five to 10 years and spanned a wide range of breeds including natives, thoroughbreds and warmbloods. Over half (59) were recorded as healthy and 41 per cent had one or more health problems.
Professor Josh Slater of the RVC, who advises the Blue Cross on the survey, said: "NEHS is a unique initiative that has shown it is possible to generate reliable syndromic disease surveillance data direct from horse owners. NEHS has, for the first time, provided us with data on the disease problems faced by horses in the UK."