Trial to examine effect of pheromone collars on behaviour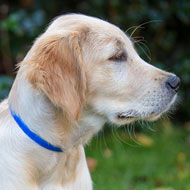 The University of Lincoln and Ceva Animal Health are searching for puppy owners to take part in a study into puppy behaviour and the effect of a pheromone collar on puppy development.
The double-blind, placebo-controlled study aims to examine whether the pheromone collar can help to curb the development of certain behaviours in puppies which could be problematic.
The study is open to puppies less than 12 weeks of age. Puppies will be required to wear a collar until they are six months old, with a new collar sent monthly to the owner's home. Owners will be asked to fill in a simple check sheet on their puppy's behaviour every month.
Participants who complete all of their questionnaires will receive a canine health and welfare goodies pack from Ceva Animal Health and will be entered into a draw to win an iPad.
A marketing pack is available to raise awareness of the study, including a waiting room poster, owner leaflets and a social media post. The University of Lincoln is providing veterinary professionals with a £10 voucher for every successful sign up to the trial.
For more information on the study, please email the University of Lincoln at  puppydevelopment@lincoln.ac.uk
Image (c) Ceva Animal Health.