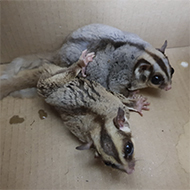 Pair of sugar gliders found abandoned in London
The RSPCA is urging people not to buy exotic pets online, after a pair of terrified sugar gliders were found abandoned in an animal carrier in north-east London.
A member of the public took the pair to a veterinary clinic in Leyton last week (24 July), having found them in a little carrier inside a wooden nest box by some bins.
Vets believe there is one male and one female but were unable to check the creatures thoroughly, as they are so terrified they scream when humans approach.
The sugar gliders, which are about the same size as small hamsters, were taken to a specialist exotics facility for emergency care.
RSPCA inspector Kate Ford said: "Sugar gliders look incredibly cute and people might be tempted to buy them as pets but they need very specialist care to look after them properly.
"For this reason the RSPCA does not believe that sugar gliders are suitable to be kept as pets, as we do not believe it would be possible to adequately meet their needs in a typical household environment."
Sugar gliders are nocturnal and arboreal, meaning they spend their lives in trees and can glide for 50m or more, which is very difficult to recreate in a typical household environment.
The case is the latest in a string of recent call-outs to the RSPCA involving exotic animals, including emus, raccoon dogs, primates and even caiman. The charity is urging people to resist the urge to buy exotics online, where they are readily available.