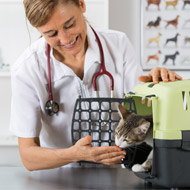 Initiative to promote benefits of registering with a vet
The RCVS and the BVA have launched a social media campaign to highlight the benefits of registering pets with veterinary practices. The move comes as new figures show an estimated 3.1 million pets in the UK are not registered with a vet.
The collaborative 'Pets Need Vets' initiative shares 11 benefits of registering pets with a veterinary practice. They include easier access to emergency care, regular weight checks and nutritional advice. The campaign also calls on pet owners to visit findavet.org.uk to find the right practice for them and their pet.
"Pets need vets to ensure their lifelong wellbeing, which is why it is concerning that a large number of pet owners in the country have not registered their animals with a practice," said BVA president John Fishwick. "It is important that owners have access to reliable advice and veterinary care to be able to best look after their pets, and so we are calling on the profession to get involved in promoting the wealth of benefits that registering with a vet practice provides."
RCVS president Professor Stephen May added: "Owning an animal is a huge responsibility, which is why access to professional veterinary advice is vital. With this campaign, we aim to highlight some of the considerable benefits of registering pets with a veterinary practice, and raise awareness amongst pet owners who have not yet registered of the value of having access to professional veterinary advice, expertise and treatment to keep their animals healthy."
To help promote the campaign, vets, nurses and veterinary practices are being encouraged to share the campaign on social media using the hashtag #petsneedvets. They can also help spread the word by downloading campaign resources and taking advantage of the opportunity to encourage local pet owners to register with their practice.
To further promote the campaign, existing clients are being asked to share pictures of their pets at the vets online using the hashtag #lovemyvet and #lovemyvetnurse.