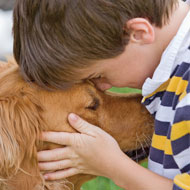 Findings could lead to better treatments

The bone cancer osteosarcoma is genetically similar in dogs and human children, according to new research.

The study, published in Communications Biology, could help in the treatment of the disease, which has not seen a significant medical breakthrough in almost 30 years.

Senior author Will Hendriks said: "While osteosarcoma (OS) is rare in children, it is all too common in many dog breeds, which makes it a prime candidate for the kind of comparative cancer biology studies that could enhance drug development for both children and our canine friends."

In the study, researchers at Tufts University and Translational Genomics Research sequenced the genomes of 59 dogs.
They found that canine OS shares many of the genomic features of human OS, including low mutation rates, altered cellular pathways and unique genetic features of metastatic tumours.

Professor in comparative oncology Cheryl A. London said the findings "set the stage for understanding OS development in dogs and humans, and establish genomic contexts for future comparative analyses."

Researchers also identified new features of canine OS which may also warrant further investigation, including recurrent and potentially cancer-causing mutations in two genes – SETD2 and DMD.

Osteosarcoma is the most commonly-diagnosed bone cancer in dogs but it is rare in humans.

Chemotherapy and surgery can extend survival, but some 30 per cent of pediatric OS patients die from metastatic tumours within five years. In dogs, the cancer moves much faster, with more than 90 per cent succumbing to metastatic disease within two years.