Animal health leaders team up for new venture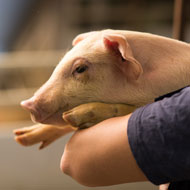 A joint venture to tackle foot-and-mouth disease (FMDV) in China has seen three leading animal health companies team up to form a new vaccine company.
The Shaanxi Meili Omni-Honesty Animal Health Co., Ltd is expected to focus on the research, development and manufacture of vaccines against FMDV, beginning in 2021. The total investment in the project amounts to 840 million yuan (around £94.5 million).
Launched at a groundbreaking ceremony at Airport New City in Xi'an, the company is a joint venture between Boehringer Ingelheim, Beijing KangMu Omni-Honesty Animal Health Products Co., Ltd (KMOH), and China Agricultural Vet. Bio. Science and Technology Co., Ltd (ZNWT).
Yuan Ximin, chairman of the new vaccine company, said: "Foot-and-mouth disease in swine is an epidemic that has a significant impact on animal husbandry and food safety. It is highly contagious and has a high mortality rate.
"The market is in urgent need of vaccines featuring the world's top-level technology. I believe this project will drive transformation and upgrading of China's animal vaccine industry, and it will also help improve economic benefits for Chinese farmers."
The three companies each bring unique expertise to the venture; with Boehringer a leader in veterinary public health, ZNWT approved by the Ministry of Agriculture to produce the full set of vaccines against FMDV, and KMOH benefitting from extensive market channels across China.
Zhang Yunde, chairman and general manager of ZNWT, said the collaboration will lead to unprecedented advances in disease prevention and control, as well as vaccine technology and market growth.