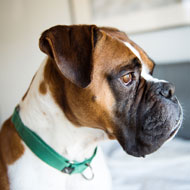 A new study by the Royal Veterinary College suggests that age, breed, sex and bodyweight are all risk factors for seizures in UK dogs.
Using data from VetCompass, researchers identified 3,731 seizure cases from a population of more than 450,000 dogs, which were under primary veterinary care in 2013.
Key findings include:
pugs, basset hounds, boxers, beagles and dogue de Bordeaux had an increased risk of seizures, compared to Labrador retrievers
breeds with reduced odds of seizures included the shih-tzu, West Highland white terrier, English springer spaniel and cocker spaniel
the odds were 2.13 times higher in dogs aged three to under six years, compared to dogs aged six months to under three years
dogs younger than six months had reduced odds for seizures
trends suggested that seizures were more likely as age increased
males, regardless of neutering status, had higher odds of seizures than entire females
purebred dogs were 1.28 times more likely to have seizures than crossbred dogs
the toy breed group had the highest odds of 1.68 for seizure occurrence, compared to breeds that are not recognised by the Kennel Club
dogs with an adult bodyweight of more than 40kg were 1.24 times more likely to have seizures than dogs under 10kg.
Seizures are considered common in dogs but there has been limited information on their occurrence. Most studies have focused on cases classified as epileptic, whereas the latest study explored seizures in general.
Co-author Dr Dan O'Neill said: "This study shows the beauty and the power of Big Data to take our knowledge base on companion animal health to levels that were previously only a dream. These results can greatly assist veterinarians, owners and breeders to improve the welfare of our dogs."