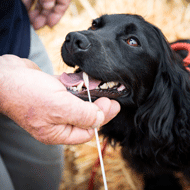 Kennel Club partners with Weatherbys to simplify health testing
A single cheek swab can now be used to DNA test certain dog breeds for multiple inherited diseases.
The Kennel Club has partnered with British horse racing firm Weatherbys to develop the CombiBreed health test packages, to help make DNA tests more accessible to breeders.
Test results will be made available on the Kennel Club website, so puppy buyers can check to see if a dog has come from health tested parents.
The test packages are now available for 13 pedigree breeds: Labrador retriever, French bulldog, cocker spaniel, English springer spaniel, golden retriever, German shepherd, Staffordshire bull terrier, Cavalier King Charles spaniel, beagle, border collie, rough collie, Chinese crested and the Australian shepherd.
Earlier this year, research by the Kennel Club and Animal Health Trust found that 10 years after each new DNA test became available, the disease-causing genetic mutation fell by 90 per cent or more in each dog breed.
Dr Tom Lewis, genetics research manager for the Kennel Club, said: "Our partnership with Weatherbys is a crucial step in improving dog health and will allow breeders to help positively impact future generations by ensuring dogs are health tested before breeding.
"The genetic tests that we have included in the Weatherbys CombiBreed packages are the result of work by the Kennel Club and Weatherbys to identify the most significant genetic diseases in individual breeds.
"The benefits of providing all relevant tests for each breed mean that puppy buyers can also feel assured that their puppy has been bred by a responsible breeder, whilst simplifying the process for breeders themselves."