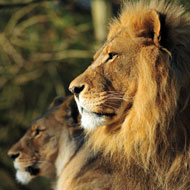 Campaigners say well-meaning project could increase animal suffering
Animal Defenders International (ADI) is calling on the United Nations Development Programme (UNDP) to reconsider its "well-meaning but ill-conceived" 'The Lion's Share' fund.
Launched in June, the fund asks advertisers to contribute a percentage of their media spend for every advert that features an animal. The funds will be used to support animals and their habitats around the world.
But in a statement on its website, ADI said that the fund could give rise to the use and suffering of wild animals in advertising and that it could hinder conservation efforts:
'With extensive expertise studying the use of animals in the entertainment industry, ADI has shown that the real training, including discipline or abuse of captive animals used for entertainment, tends to occur offset and away from public view,' it said. 'This makes it almost impossible for advertisers to ensure that a performing animal has not suffered during a lifetime of training.
'With The Lion's Share encouraging companies to use animals to help threatened species, this is likely to lead to an increase in the suffering of their captive counterparts. Founding member of the initiative Mars has already stated that "We're not going to be limiting our number of animals; we're actually going to be increasing".'
ADI is now urging the UNDP, production company FINCH and Mars to turn The Lion's Share on its head and seek commitments from advertisers who pledge not to use animals.