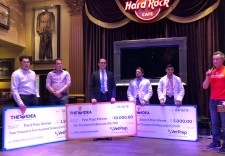 The 2nd annual finale of 'The Idea' concluded with three student team presentations to a live audience and was also broadcast on Facebook Live
The Student Chapter of the American Veterinary Medical Association Annual Symposium was held March 15 – 17 in beautiful Center City Philadelphia. Among the engaging lectures, clinical skills competitions, and events was the second annual live finale of "The Idea," an innovation competition exclusively for veterinary students, and hosted by VetPrep and ViralVet. In addition, the Veterinary Innovation Lab from Texas A&M joined VetPrep in supporting the year-long competition.
Over 27 student teams from across North America entered the competition during the 2017-2018 season. The semi-finalists worked closely with Dr. Aaron Massecar from the Texas A&M Veterinary Innovation Lab, as well as many other guest mentors to take an entrepreneurial and innovative journey that resulted in the selection of three teams to compete in the live finals held at the Hard Rock Cafe in Philadelphia.
Judges of the live finals included Dr. Omar Farias (Hill's Pet Nutrition), Lena Eastin (Merck), Rachel Katz (VMBA), Dr. Michael Tokiwa (radio personality, practice owner), and Dr. Stephen Shaw (VetPrep co-founder). Participants pitched their innovative Ideas live to the panel of judges, and then endured a series of insightful questions before learning the results in front of a live audience.
The $10,000 grand prize of "The Idea" competition was presented to Michael Conguista from University of Minnesota for his Dental Vet typodont concept. William Aqeel and Emmanouil Emmanouilidis were awarded the $5,000-second place prize for their U-Syringe concept, and Cory Erb and Devyn Bartell from Washington State University were awarded the $2,500 third place prize for their PetStat app. The cash prizes were awarded to assist the winning teams in funding the ongoing development of their ideas. The recording of the live finals can be viewed at https://www.vetprep.com/theidea.
"The Idea" competition organizer, VetPrep, is extremely inspired and working hard on the launch of Season 3. We will begin accepting applications from student innovators beginning late spring. The year-long competition will culminate in the Season 3 Live Finals at SAVMA Symposium 2019 hosted by the University of Georgia, College of Veterinary Medicine.
VetPrep sponsors "The Idea" competition to provide the tools and exposure necessary for future veterinary innovators to bring their ideas to life. The competition has been shown to inspire both students and veterinarians to achieve things they otherwise would have never attempted. As Dr. Mauricio Dujowich, co-founder of VetPrep said, "It would be amazing to see this event grow to become one of the most anticipated annual events at SAVMA Symposium, and something that everyone in the veterinary community is excited to be a part of and see. That would be a great indicator that our profession is collaborating, innovating, teaching, and having fun."