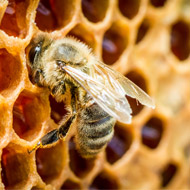 Researchers investigate the benefits of royal jelly.
A mammalian protein similar to the active component of honeybee royal jelly can keep stem cells youthful, according to new research.
The study, published in Nature Communications, found that the protein causes cells to remain pluripotent. This means they are able to give rise to several different types of cells, under conditions that would normally cause them to grow into specialised cells.
Researchers say the finding is likely to fuel the thousand-year debate as to the healing powers of royal jelly. It also unveils new pathways to pluripotency and shows new ways to keep stem cells in a state of suspended animation until needed for future therapies.
"In folklore, royal jelly is kind of like a super-medicine, particularly in Asia and Europe," said senior author Kevin Wang. "But the DNA sequence of Royalactin, the active component in the jelly, is unique to honeybees. Now, we've identified a structurally similar mammalian protein that can maintain stem cell pluripotency."
Royal jelly is a substance produced by honeybees to feed queen bees and their young. When a queen dies, worker bees select a few female larvae to nurture with royal jelly during their development.
During the first few days of development, all bees are fed with royal jelly – a substance composed of water, proteins and sugars. But worker bees are soon switched to a combination of royal jelly, honey and pollen.
In the study, Wang and his team from Stanford University set out to see how a royal jelly diet could give rise to the extreme differences between queen bees and much smaller workers. They applied the active component Royalactin to mouse embryonic stem cells, and then studied the cells' response.
They found that the addition of Royalactin stopped the embryonic stem cells from differentiating. This occurred even in the absence of inhibitors, which are often added in the laboratory to stop stem cells transforming into specialised cells.
Next, Wang searched a database to see if he could find another protein in mammals that resembles the structure of Royalactin. He found the mammalian protein NHLRC3, which is produced early in embryonic development in all animals.
Like Royalactin, NHLRC3 was able to maintain pluripotent in mouse embryonic cells. The researchers named the protein Regina, after the Latin word for queen.
The team now aims to explore if Regina has any therapeutic value in wound healing or cell regeneration in adult animals.