Officials to assess current state of readiness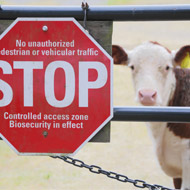 Government departments across the UK are working together to test contingency plans for an outbreak of foot and mouth disease.
'Exercise Blackthorn' will see officials from DAERA, the Scottish Government, Welsh Government, DEFRA and the APHA test all current contingency plans for an outbreak of the disease. The officials aim to assess the current state of readiness whilst identifying issues and areas for improvement.
"Regularly testing our contingency plans and joining up across the UK is an important part of assuring our capability to respond to disease outbreaks. Exercises like this provide an opportunity for teams across government and industry to engage and to learn lessons in a controlled and safe environment," said chief veterinary officer Nigel Gibbens.
"The risk of foot and mouth disease arriving in the UK is low but ever-present. Government monitors disease outbreaks and incidence around the world assessing risk for the UK and taking action to mitigate risk where possible."
Under the EU Foot and Mouth Disease Directive, Member States are required to exercise their contingency plans twice in a five-year period or during the five year period after a major epizootic disease has been controlled and eradicated.
Exercise Blackthorn will simulate a large-scale outbreak that has spread from England to the rest of the UK. The first simulation exercise took place on Thursday (8 February) and further exercises will be carried out over the next five months.