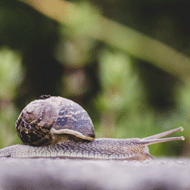 Snail mucus reveals proteins that could treat infections 

Proteins found in the mucus of garden snails could offer hope for a new antibiotic, scientists say.

Research published in the British Journal of Biomedical Science suggests the proteins could directly lead to a new antibiotic cream for deep burn wounds, and an aerosol for lung infections seen in patients with cystic fibrosis (CF).

Dr Sarah Pitt from the University of Brighton began collecting the frothy mucus from brown garden snails and testing it for antibacterial activity against a panel of bacteria. 

In previous work she had found the mucus inhibited the growth of Pseudomonas aeruginosa, which is a very important cause of lung infections in patients with CF. Antibiotic resistant strains of the bacterium are becoming increasing common, opening up a need for new drugs.

Working with colleagues at Kings College London, Dr Pitt separated sterile solutions of proteins known as protein fractions in a novel way, so that smaller portions could be sent for antimicrobial testing. The team were surprised to find that fractions containing some smaller proteins also worked against the bacteria.

"Matching them with the international data base of proteins, we found that no one had reported them before, so they are newly identified," Dr Pitt said.

However, further research is needed: "If we can make the proteins artificially in the lab, we can try and work out what they are doing to the bacterium," she added.
"We think that it might be possible to incorporate the purified protein into a cream to treat deep burn wounds and possibly an aerosol to treat lung infections."