Veterinary professionals will soon be able to get their teeth into the topic of donkey dentistry thanks to a new book from The Donkey Sanctuary.
The international charity is preparing to launch its new professional textbook The Clinical Companion of Donkey Dentistry at the BEVA Congress in Birmingham (Wednesday 11 to Saturday 14 September).
Hot topic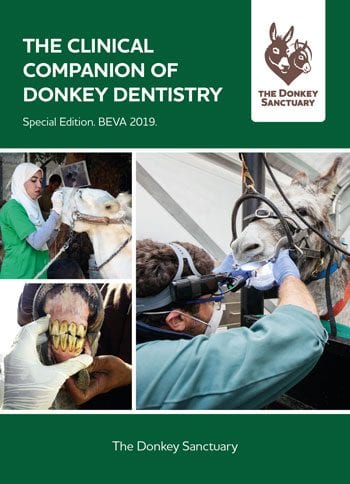 The new book aims to increase veterinary professional's awareness of, and ability to treat, a catalogue of donkey dental issues.
Dental disease is the second most common clinical problem encountered in donkeys, after disorders of the feet, and has the potential to cause significant pain.
By sharing its vast knowledge and experience in this sphere, The Donkey Sanctuary hopes to improve the health and welfare of animals across the globe.
Important issue
Faith Burden, director of research and operational support at The Donkey Sanctuary, said: "We are delighted to release this new dentistry book, which focuses on an important, but often neglected, element of donkey and mule welfare.
"By providing this evidence-based handbook, we are sharing our knowledge and expertise, which has been developed during The Donkey Sanctuary's past 50 years."
Pastures new
The guide charts new territory, being the only technical handbook focused on the oral and dental health of donkeys and mules across the world.
It is the first in a series of specialist in-depth handbooks to complement The Clinical Companion of the Donkey textbook.
The Clinical Companion of Donkey Dentistry is available as a free download and will be available to purchase in textbook form later in the year.