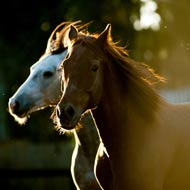 Arti-cell Forte indicated for use in horses with lameness
The first stem cell-based veterinary medicine has been recommended for marketing authorisation in the European Union by The European Medicines Agency's (EMA) Committee for Medicinal Products (CVMP).
Arti-cell Forte is recommended for use in horses with mild to moderate lameness related to joint inflammation. It is available as a suspension for injection and is given as a single injection into the affected joint.
In a press release, the EMA said the stem cells in the medicine are treated so they develop towards cartilage cells. This can then help to repair damaged cartilage in the joint.
'In a field study conducted in horses with lameness of the fetlock joint, Arti-Cell Forte showed a statistically significant improvement in the horses treated with the medicine compared with a placebo control group six weeks after treatment,' the EMA writes. 'The positive effect of treatment was sustained over one year.'
Common side effects of the medicine reported in the study were mild increase in lameness and injection site reactions in the week following treatment.
The CVMP's recommendation will now be passed on to the European Commission for a decision on an EU-wide marketing authorisation.