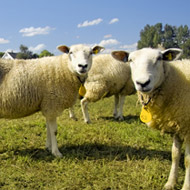 Unsupervised hound attacked flock of 80
A dog has been shot by a farmer in Country Durham after killing two pregnant ewes.
According to Farmers Weekly, the German-shepherd type dog was unsupervised when it attacked a flock of 80 pregnant ewes in a field near Howden-le-Wear last Thursday evening.
The attack took place on two in-lamb ewes who were both expecting twins. One of the ewes died from her injuries and the other had to be put to sleep. It is not yet known how the attack affected the remainder of the flock.
To prevent further attacks, the farmer made the decision to legally shoot the dog. Another dog which was also at the scene was able to escape.
Investigating police officers said that no one was seen with the dogs at any point during the attack. The dog that was shot did not have a microchip and was not wearing a collar.
According to information obtained by the All-Party Parliamentary Group for Animal Welfare (APGAW), some 15,000 sheep were killed by dogs in 2016. In light of these findings, a police working group is calling for new powers to tackle dog attacks.
The powers include making it a legal obligation for owners to report attacks, giving police power to seize dogs and making dog attacks a recordable crime. The working group also wants to see the creation of a dog DNA database in order to catch re-offenders.