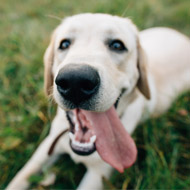 Brighton start-up produces "sustainable" dog food.
This week sees the launch of the UK's first dog food made from insects by start-up company, Yora.
According to a report by the BBC, the product aims to reduce the environmental damage caused by the vast quantities of meat farmed for food and the resultant emissions of CO2.
Currently, 20 per cent of global meat is used for pet food.
The BBC spoke with Dr Aarti Kathrani, senior lecturer in small animal internal medicine at the Royal Veterinary College, who commented that "insects can be a very useful source of protein".
Dr Kathrani added, however, that: "More studies are needed to show how much of these nutrients can actually be absorbed by a dog's body – but some studies suggest that insects can provide nutrients for dogs."
Asked whether an insect-based diet could be suitable for cats, Dr Kathrani explained to the BBC that, while cats are far less flexible in their dietary needs, insects do contain taurine – indicating that insects may be able to form a useful part of their diet.
Yora was set-up by Tom Neish in Brighton. On the company's website, he describes himself as "proud to present the world's most sustainable dog food".
The insects bred for use are themselves fed on food waste from the Netherlands.