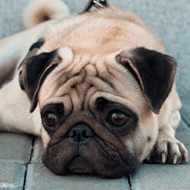 BVA welcomes 'positive engagement' with filmmakers 
Disney is working alongside the Brachycephalic Working Group (BWG) to reduce the negative impacts of its upcoming film, Patrick, which features a pug in the leading role.
The BWG, which is comprised of vets, breed clubs, welfare charities and academics, has expressed concerns that the film could lead to a surge in demand for pugs.
Patrick is set to be released on 29 June.
On the advice of the working group, Disney has agreed to a series of measures to reduce the negative impact of the film. The aim is to ensure anyone purchasing a pug carefully researches the breed and is aware of the health issues, costs and specialist care these dogs may require.
Steps agreed by Disney and BWG include:
adding a welfare message to the credits section, explaining the health issues pugs face
distributing leaflets to journalists and the public at UK cinemas, raising awareness of leading health issues in the breed and explaining that ownership should not be undertaken lightly
images of pugs dressed in human clothing will not be used in marketing for the film
there will be no merchandising of Patrick pug memorabilia.

The BWG will also support the development of a process to ensure that future films featuring animals properly consider the potential animal welfare implications.
BVA's senior vice president, Gudrun Ravetz commented: "We welcome Disney's positive engagement with BWG to address members' concerns regarding the anticipated interest in pugs after the movie's release.
"As part of BVA's ongoing Breed to Breathe campaign, we would urge prospective dog owners to prioritise welfare over looks and to speak to their local vet for advice on the right dog for them."