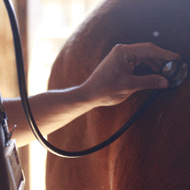 Breeding restrictions placed on affected animals in Dorset  
Two cases of equine viral arteritis have been detected in non-thoroughbred stallions at a premises in Dorset, the UK's chief veterinary officer has announced. It is the first time the disease has been confirmed in Britain since 2012.
Defra said the animals affected are not racehorses and there is no indication that upcoming races will be affected.
Restrictions on breeding have been placed on the animals to reduce the risk of disease spread and further investigations are ongoing. There is no risk to human health.
Chief vet Christine Middlemiss said: "We have taken swift action to limit the risk of the disease spreading by restricting the movement of the animals and their semen. A full investigation is underway to determine the source and possible spread of the infection. Owners of mares and stallions are urged to have their animals tested before they are used for breeding.

"These findings remind us that we must all be vigilant for signs of disease and follow strict biosecurity measures."
Equine viral arteritis is a notifiable disease in stallions and mares that have mated or been inseminated in the past 14 days. Signs can include conjunctivitis, swelling of testicles or around eyes and lower legs, abortions, fever and runny nose, depression, lethargy and stiff movement. However, some horses show no clinical signs.
The disease can be spread through mating, artificial insemination, contact with aborted foetuses or via the breath of infected animals.
If a case is suspected, it must be reported immediately to the Defra rural services helpline on 03000 200 301. In Wales, contact 0300 303 8268, or in Scotland, contact the local field services office.