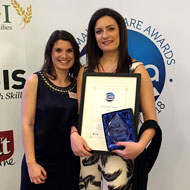 Maria Pinto Teixeira founded Animals de Rua in Portugal  
The founder of a Portuguese animal charity has received the iCatCare Welfare Award, which recognises 10 years of tireless work to improve the lives of cats and dogs in her home country.
Maria Pinto Teixeira accepted the award at CEVA's Animal Welfare Awards in Birmingham on 4 April. iCatCare said her hands-on welfare work, training, sharing of knowledge and influence on legislation made her 'the obvious choice'.
After beginning her career as a lawyer, Maria became concerned about the plight of unowned cat colonies in Portugal. She took it upon herself to seek out a humane solution to the problem, travelling to the UK and USA to learn how to carry out trap-neuter-return (TNR) work.
She left her legal practice in 2008 and founded Animals de Rua in 2008. While the charity initially carried out TNR work in her hometown of Oporto, it has since grown into one of the most recognised and respected animal welfare organisations in the country.
Animals de Rua works closely with local and central government to offer legal and scientific input on animal legislation.
Changes in the law influenced by the charity include the regulation of pet sales online and in shops, the rights of tenants with pets, the regulation of the ban on killing animals for population control and the establishment of TNR as a method of controlling feral cat colonies.