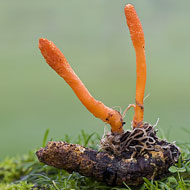 Active compound can reduce pain and halt disease progression 

A fungus that infects caterpillars, Cordyceps militaris, could hold the key to new treatments for osteoarthritis, according to new research.

The study, published in the journal Scientific Reports, suggests that an active compound in the fungus, cordycepin, could reduce pain and halt disease progression.

Scientists say it works by blocking inflammation in an entirely different way to any other pain killer – by repressing a process called polyadenylation – and could be used to help patients for which other treatments have failed.

The study was led by the University of Nottingham and funded by the charity 'Versus Arthritis'. 

"We hope that cordycepin will prove to be the founder of a new class of pain killer," explained Dr Cornelia De Moor from the University of Nottingham's School of Pharmacy. "There is a long way to go before a cordycepin-derived medicine reaches patients, but our work is very promising, we are very excited about the prospects."

Previous work by the University of Nottingham found that cordycepin had anti-inflammatory effects in both cartilage and bone. In this study, researchers administered the compound to rats and mice with osteoarthritis and found that it both reduced pain behaviour and structural damage.

Interestingly, researchers found that cordycepin blocked the inflammation by affecting the last stage of making a messenger RNA, Polyadenylation. 

Current treatment options for osteoarthritis are limited to lifestyle changes and reducing pain with non-steroidal anti-inflammatories or opioids. But these have limited efficacy and come with unpleasant side effects.

The team hope that the results from this new research will provide a more effective treatment for osteoarthritis that is less toxic and will, therefore, have fewer side effects for patients. 

Dr Stephen Simpson from Versus Arthritis said: "Although in its early stages, the study has great potential suffering pain of musculoskeletal conditions and demonstrated the high value and impact of novel discovery-led research on understanding and treating diseases."
Image (C) Jose Ramon Pato, Coruña, España.