Belgian Malinois Kuga recognised for actions in Afghanistan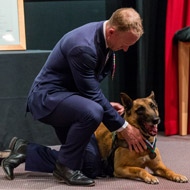 A military working dog from Australia has received the PDSA Dickin medal for his extraordinary actions while on duty in Afghanistan.
Belgian Malinois Kuga was posthumously awarded the medal – often referred to as the animal's Victoria Cross – at a special ceremony at The Australian War Memorial in Canberra.
"Kuga's actions undoubtedly saved the lives of his patrol. He took on the enemy without fear, saving his comrades despite suffering serious injury, and is a thoroughly deserving recipient of the PDSA Dickin Medal," said PDSA director general Jan McLoughlin.
In August 2011, Kuga and his handler were part of a Special Operations Task Group (SOTG) conducting a mission to capture a senior Taliban insurgent in the Khas Uruzgan district. As part of this mission, Kuga was required to search the river's edge for concealed insurgents or improvised devices.
As the patrol moved closer to the target compound, Kuga identified an enemy presence, concealed in the trees. He swam across the river to apprehend the enemy, but in doing so was shot five times.
Despite his serious injuries, Kuga survived and returned home to Australia, but died less than a year later. Although inconclusive, it is believed that Kuga's body succumbed to the stress placed upon him during the incident.
The medal was presented by PDSA Trustee Mary Reilly to Kuga's canine colleague, retired military working dog Odin. Corporal Mark Donaldson – the recipient of the Victoria Cross for his actions in Afghanistan – received Kuga's medal on behalf of the regiment.
"Kuga's actions that day in Afghanistan were heroic. There's no doubt in anybody's mind that he saved lives. He just wouldn't give up on his mates and doing his job," said Corporal Donaldson.
"Kuga and the other military working dogs in Afghanistan saved countless lives, whether they were finding IEDs or tipping us off to an enemy presence before we'd seen them. Kuga's PDSA Dickin Medal is for the all military working dogs who worked alongside us in Afghanistan and every day since."
The PDSA Dickin Medal is a large, bronze medallion bearing the words "For Gallantry" and "We Also Serve" all within a laurel wreath. The ribbon is striped green, dark brown and sky blue representing water, earth and air to symbolise the naval, land and air forces.
Kuga is the 71st recipient of the PDSA Dickin Medal and the first Australian dog to receive the honour.

Image (C) PDSA/ Commonwealth of Australia Department of Defence.