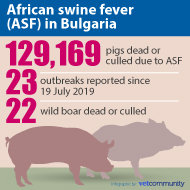 Authorities order culling of home-raised pigs in 'sanitary zones'
Nearly 130,000 pigs have died or been culled in Bulgaria due to African swine fever (ASF), according to new figures from July and August.
The country has reported 23 outbreaks to the World Organisation for Animal Health (OIE) since 19 July. A total of 129,169 pigs and 22 wild boar have been killed by the virus, predominantly in the north, north west and central northern parts of the country.
Cases have also been seen in the east, south and south west.
Six of the outbreaks occurred on large commercial farms in northern Bulgaria, close to the border with Romania. Eight outbreaks occurred on backyard farms and six on commercial farms, while the remainder were detected in forests.
Bulgarian authorities have placed 20km (12.4 mile) sanitary zones around all registered industrial pig farms and ordered the culling of home-raised pigs within these areas, Reuters reported. 
In response, protest rallies have been seen in several parts of southern Bulgaria, with hundreds of people refusing to adhere to government orders, Reuters added. Agriculture minister Densislava Taneva extended the culling deadline until 11 August in the southern Pazardzhik district after 31 mayors issued a joint statement saying they would not allow it to go ahead.
The UK's risk level for contaminated products entering the country remains at medium. However, the Animal and Plant Health Agency said in its latest update that this is a critical time for the spread of the virus in Europe, as well as to other regions, through human travel. Repeated findings of contaminated products in passenger luggage is of particular concern.
Defra recently launched a poster campaign in airports and ports in the UK to raise awareness of the risks of bringing pork products into the country.