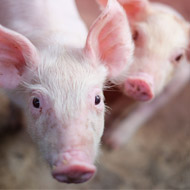 Three outbreaks reported in northern provinces  
Vietnam has become the latest country to be hit with African swine fever, after three outbreaks were reported in the northern part of the country.
Over 250 pigs have so far died or been culled in the Hung Yen and Thai Binh provinces, both of which are in the Red River Delta region, approximately 100 miles from the Chinese border.
Control measures are in place, including disinfection, quarantine, surveillance and movement controls inside the country.
ASF has also recently been confirmed for the first time in the Chinese province of Guangxi, which borders Vietnam. The virus has also hit Shandong province.
According to the UK's National Pig Association, China has reported more than 100 ASF cases in 27 provinces since last August, with nearly one million pigs culled. The virus has also been reported in neighbouring Mongolia, as well as being detected in pork products in Taiwan.
All positive samples tested by the Taiwanese government came from China, except the most recent case, which was confiscated from a passenger entering the country on a flight from Ho Chi Minh City, Vietnam.