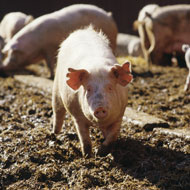 Culling of 6,000 pigs underway following protests  

African swine fever has been confirmed in a Hong Kong slaughterhouse for the first time, the country's chief veterinary officer has confirmed.

The virus was detected in tissue samples collected from the condemned carcass of an imported pig.
Operations at the Sheung Shui Slaughterhouse have been suspended since the outbreak on 10 May, according to the World Organisation for Animal Health (OIE).

Hong Kong's agriculture, fisheries and conservation department revealed last week that the pig was imported from Zhanjiang in China's Guangdong province.

According to media reports, the batch including the infected pig had already been released to the market before the disease was confirmed.

Sophia Chan, secretary of the city's food and health department, is quoted in the press as saying all pigs at the slaughterhouse would be culled so that thorough cleansing and disinfection could be carried out.

Plans to cull the 6,000 pigs were initially hindered by pork traders who threatened to stand guard overnight to prevent officials entering the slaughterhouse. An agreement was reached during talks on Sunday (12 May), meaning authorities began culling operations at the slaughterhouse yesterday (13 May).

Affected pork traders could be compensated HK$20 million, EJ Insight reported.