Vets and volunteers fight to keep surviving whales alive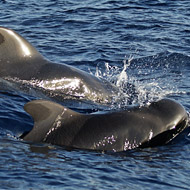 More than 140 whales have died after a mass beaching in Western Australia.
The whales washed up at Hamelin Bay on Friday morning, around 300km south of Perth. Local people have been urged to steer clear of the area whilst vets and volunteers assist with the care and rescue of the surviving whales.
In its latest update, Australia's Parks and Wildlife Service said that of the seven surviving pilot whales released back into the sea, three have re-stranded while the remaining four have not been sighted. The three that returned to the beach have been euthanised.
Parks and Wildlife Service incident controller Jeremy Chick said the department had conducted a comprehensive sea, air and ground search and had not found any additional or live whales.
"All the deceased whales have been removed at the main stranding site and the additional outlying sites. There are two deceased whales remaining in inaccessible terrain and a plan is being developed to remove them as soon as logistically possible."
Short-finned pilot whales inhabit tropical and subtropical waters and may be seen in the hundreds. However, groups normally number less than 100.
The species normally stands en masse. In November 1984, nine pilot whales were found dead after beaching at Albany's Ledge Point. Some 38 pilot whales were also stranded in April 1991 at Sandy Point, Victoria, but died within a few hours.
Parks and Wildlife Service staff said that its officers are now collecting DNA samples from the dead whales to try to ascertain how and why the whales became stranded.