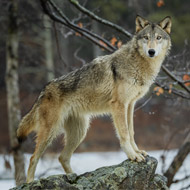 Study suggest wolves lead and dogs follow

Wolves and dogs may be more similar than previously thought, according to new research which suggests both species cooperate with humans, but in different ways.

A study published in the journal Scientific Reports indicates that dogs share specific behavioural characteristics with wolves, which gives them their ability to work with people.

Researchers from Vetmeduni Vienna explored the extent to which 12 dogs and 15 grey wolves collaborated with humans to solve certain tasks.
They found that both dogs and wolves, when socialised with people and kept under similar conditions, work equally well with humans, but in very different ways. Dogs were seen to follow the behaviour of humans, while wolves led the interactions and were more independent.

"The detailed analysis of the cooperative interactions revealed interesting differences between wolves and dogs," said study director Friederike Range. "It shows that, while wolves tend to initiate behaviour and take the lead, dogs are more likely to wait and see what the human partner does and follow that behaviour."

The research team believe that, in the process of domestication, dogs with higher submissive tendencies were selected for breeding. This helped to reduce conflicts over resources and ensured the safe coexistence and cooperation between humans and dogs.

Previous research has suggested that dogs gained specific predispositions for cooperative interactions during domestication. Dogs would therefore be expected to be better at cooperating with humans than wolves. But as a species, wolves are highly cooperative in working together to raise young, hunt and defend their territory.

Vetmeduni Vienna researchers concluded that dogs did not develop new cooperative traits during domestication – but instead, the collaborative skills of their wolf ancestors formed the basis of dog-human cooperation.