Seven-year-old Naya gets to know her new companion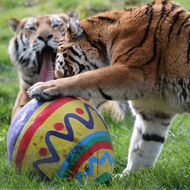 Love is in the air at ZSL Whipsnade Zoo after a pair of tigers took part in a rather egg-citing 'first date'.
Seven-year-old female Amur tiger Naya and male tiger Botsman got to know each other over a huge, colourful Easter egg fashioned from papier-mâché. The egg was brushed with intriguing scents including catnip and blood, and hidden within the tigers' enclosure.
Maya had recently moved to Whipsnade from a feline conservation centre in France. Keepers decided to create the special Easter egg hunt to help her get to know her new 28-stone male companion.
"We wanted to create an activity for Naya that would engage her natural instincts to hunt for and investigate something, in order to help her feel immediately at home here at ZSL Whipsnade Zoo," said team leader Donovan Glyn. "Once we dreamt up the Easter egg hunt, we realised this would also be an excellent way for Naya and Botsman to get to know one another better."
"So far, Naya and Botsman have been getting on extremely well, in fact, they are almost inseparable. We're all thrilled that romance seems to be in the air this spring, and have high hopes for these two as part of the conservation breeding programme."
Maya has moved to Whipsnade Zoo as part of the European Endangered Species Programme. As well as managing the EEP for Amur tigers, ZSL works for tiger conservation in the Russian Far East, through population monitoring, anti-poaching work, education outreach and wildlife health.