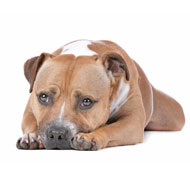 Parliamentary debate triggered by e-petition 
Staffordshire bull terriers will not be added to the list of banned breeds in the UK, the government has confirmed, after the issue was debated in parliament.
The debate was triggered by an online petition urging the government to reject calls to add Staffies to section one of the Dangerous Dogs Act, which would effectively ban them. The petition received more than 170,000 signatures.
Under section 1 of the Act, which is known as breed specific legislation (BSL), pitbulls and three other types of dogs are banned in the UK.
Animal rights group PETA recently called for Staffies and American bulldogs to be added to the list, as it argues these breeds are abused and neglected to make them fiercer, and cited a number of incidents involving attacks.
During the House of Commons debate, George Eustice, the minister for agriculture, fisheries and food, stated: "The government have no plans at all to add the Staffordshire bull terrier to the prohibited list. We have been clear about that in response to the e-petition."
As the debate moved onto the wider issue of BSL, there was strong support among cross-party MPs for changing the law to tackle irresponsible owners, not breeds of dog.
Several MPs shared stories of good-tempered dogs they had met in rescue centres such as Battersea, which had to be automatically euthanised because of their breed. There were calls to amend the legislation to consider the dog's temperament, not just its type, and also to improve the science of identifying pitbulls, which currently relies on the dog's appearance, not DNA testing.
Scottish National Party MP, Alan Brown, said: "Dangerous dogs are created by irresponsible owners, sometimes through neglect and sometimes through wilful behavioural training to create a dangerous dog, which is alarming in itself. We need to tackle those people, rather than worrying about specific dog breeds."
Responding, Mr Eustice said the government believes BSL is a "valuable tool in the battle against irresponsible owners of dogs" and does not feel there is currently a case for changing the legislation.
Meanwhile, the Environment, Food and Rural Affairs (Efra) Committee has been gathering evidence on the effectiveness of the Dangerous Dogs Act. A report on the findings is expected in due course.