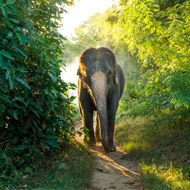 Study reveals global map of wildlife "cool spots" and "hot spots"
"The vast majority of imperilled species that are not extinct yet will be if we don't take pre-emptive action."
That is the stark warning from researchers at the Wildlife Conservation Society and the University of Queensland, who have mapped out the threats faced by thousands of species.
Writing in the journal Plos Biology, the researchers identify the world's "cool spots," where wildlife is thriving, and "hot spots," where species are most affected by hunting, land clearing and other industrial activities. 
The team assessed a total of 5,457 species, including amphibians, birds and mammals, and found that human impacts on these species extend across 84 per cent of the world's surface.
Their study also revealed that around a quarter of the species are threatened across nearly 90 per cent of their distribution.
Most concerning, the researchers say, is that 395 species are impacted throughout their entire distribution and are almost certain to face extinction without intervention.
James Allan, a University of Queensland post-doctoral researcher, told The Guardian: "These results are very alarming and that's because the threats we've mapped are specific to the species. 
"They're the primary causes of the species' decline and the reason they are threatened with extinction. Where a threat overlaps with a species, we know that species will continue to decline."
The Amazon rainforest, the Andes and the forests of Russia and North America were identified by the researchers as "cool spots". Leading "hot spots" were dominated by areas in Southeast Asia.
Watson said the results of the study should be used to focus on saving areas that are used as strongholds for these species.