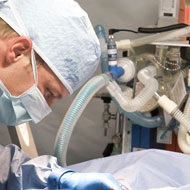 Zoetis issues update on IsoFlo supply.
Restocking of the supply chain of IsoFlo – the leading brand of Isoflurane in the UK – is scheduled to commence from February, manufacturer Zoetis has confirmed.
In a press release, the animal health firm said: 'Close communication and partnership will be maintained with wholesalers, the VMD, BVA, BSAVA, BEVA, and industry stakeholders alongside our veterinary customers to ensure the smoothest transition back to restocking and meeting the industries demand for IsoFlo.
'Starting from February we will be managing a series of deliveries of IsoFlo back into the UK supply chain until will are able to meet the full demand. This may take several months to complete.'
Zoetis supplies around two-thirds of the UK's isoflurane anaesthetic gas. But in December, it was announced that their third-party manufacturer had to cease production due to a mechanical issue on the production line.
The supply problem raised concerns by some vets they would not be able to perform emergency surgery over the Christmas period, and that they may be disciplined by the RCVS for clinical decisions that may arise from the shortage.
In response, the RCVS published a statement to reassure the profession that any problems that might arise from the shortage are unlikely to be considered a professional conduct issue. The shortage also prompted the BSAVA to commission a webinar discussing alternative solutions.