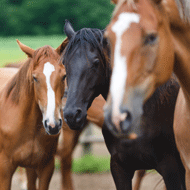 OIE Expert Surveillance Panel reviews global data on outbreaks
All vaccines for the ongoing outbreak of equine influenza should contain both clade 1 and clade 2 viruses of the Florida sublineage.
That's the latest recommendation from the World Organisation for Animal Health (OIE), whose Expert Surveillance Panel met in April to review global data on equine influenza outbreaks.
The Panel concluded that recommendations on equine influenza vaccine remain unchanged. ProteqFlu remains the only vaccine in the UK and Ireland that is updated in line with the OIE recommendations.
The OIE's Expert Surveillance Panel meets annually to review data on the equine influenza outbreak. Since its previous meeting on March 2018, outbreaks of equine influenza have been confirmed in Africa, Asia, Europe, North America and South America.
In Europe, the disease has been widespread since late 2018 when outbreaks were first reported in France. Multiple outbreaks have also been reported in Germany, Italy, the Netherlands, the UK and Sweden.
The data reveals that June 2019 had the highest number of confirmed cases since the outbreak began. All sectors of the industry are affected, including leisure horses, showjumpers, racehorses, trotters and breeding stock.