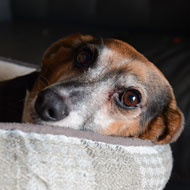 Research explores link between sex and lifespan in dogs 
Neutered female dogs live longer than male dogs or un-neutered females, according to a new study that explores the impact of sex on the longevity of pet dogs.
US and UK scientists looked at two large datasets, comprising records of over 70,000 canine deaths at North American veterinary teaching hospitals, as well as nearly 5,000 death records from primary veterinary clinics in the UK, acquired through the RVC's VetCompass initiative.
Findings published in the Journal of Gerontology suggest that neutering status has a greater impact on survival than sex. Intact males were found to live slightly longer than females, whilst neutered females 'clearly live longer' than any other group.
Death from cancer and diabetes mellitus appeared to be more common in females, whereas trauma was a more frequent cause in males. However, these findings were only significant in the larger North American dataset.
Interestingly, females were more likely to be neutered, according to the data. In the North American dataset, 71 per cent of females and 42 per cent of males were neutered, while in the UK, 58 per cent of females and 47 per cent of males were neutered.
In humans, females live significantly longer than males and there are known to be multiple differences in cause of death between the sexes. Until now, this phenomenon had not been well researched in dogs, but scientists say there appear to be no such consistent differences.
The team acknowledged certain limitations of the study – for example, the North American data did not include exact ages of death and was subject to referral and outcome bias, meaning it is not likely to be an accurate representation of the whole US/Canadian dog population.
Nonetheless, they added, the study is the most complete work to date that explores the sex differences in longevity in pet dogs. Overall, researchers conclude that sex plays only a minor role in longevity and cause of death. The finding poses interesting questions about the potential impact of evolution and domestication on sex-related longevity.