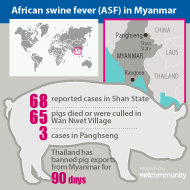 Sixty-five animals have been culled in Shan State
Myanmar's chief veterinary officer has confirmed the country's first outbreaks of African swine fever (ASF).
A dozen pigs died and 53 were culled in the initial outbreak in Wan Nwet Village, Shan State. A further two cases and a susceptible animal were later reported in the village of Panghseng, around 110km (68 miles) away.
The cause of the outbreak is inconclusive but is thought to be down to the introduction of new live animals, illegal movement of animals, swill feeding and fomites, according to a report to the World Organisation for Animal Health (OIE).
Shan State borders China to the north, Laos to the east, Thailand to the south and five administrative divisions of Burma in the west.
Thailand announced it would ban pig imports from Myanmar for 90 days to avoid the spread of ASF from its neighbouring country, according to Reuters.
The ban is expected to start this week and will cover live pigs, wild boar and carcasses from Myanmar. Thailand imposed a similar ban on imports from Laos in June.
China has also banned the import of pigs, wild boar and related products from Myanmar.